Back to Tiree!
May 11, 2018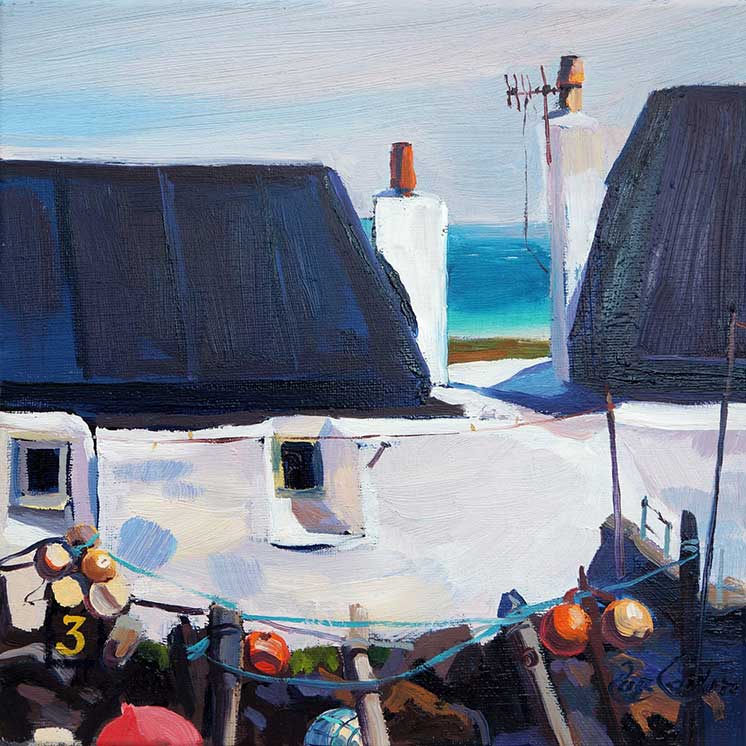 Back to Tiree! It's been a long time since I've been there! I used to visit regularly - the first time in 2001. It always captured my imagination hearing about the beaches and quaint cottages. It's been my source of inspiration in many paintings.
This visit all started with the image of my painting of The Fishermen's Felters that I posted on Facebook back at Christmas...... It was in print and ideal as a last minute gift. Roderick noticed the post and we struck up a conversation. It transpired that he and Sara owns one of the cottages. I love the cottages at the Green - having first been introduced to it by another friend Polly who often stayed next door. When the cottage came up for sale a good few years ago I put a bid in to purchase it. It was taken off the market in the last minute. So when Rod asked me to do a commission of it and offered for me to stay there I was thrilled.
It's been a great visit - visited many favourite beaches and crofts, sketched and enjoyed cooking pizza on Rod's pizza oven.
Over the years there have been some memorable occasions and amusing stories. Here are some snippets:
Good friends of mine bought a painting of The Brock which inspired a visit to Tiree culminating in them selling up lock, stock and barrel and moving to Tiree!
I remember painting a clothesline with turquoise pyjamas on it one year and the following year the same pyjamas were on the line!
The washing line paintings inspired poetry to be written by Donald Meek
An estate agent asked if they could use my paintings of one of the cottage to promote the sale of it. It culminated in a commission of the black house by the new owner's children as a surprise!
Myra saw me photographing and asked if I wanted a better view from her upstairs room! She said it made her day when she found out who I was. She had some of my work. It made my day too!
I have met so many lovely people with an interest in Tiree over the years and many have bought paintings. I hope to get back soon........
Please add a comment
Posted by
Grace
on
May 21st, 2018
redsmiles@hotmail.com
Pam just want to say thanks. I've been talking about going to Scotland for a while then I saw your work now I'm going this summer. Maybe I'll hit a gallery or two of where your work is shown.
Thanks for The inspiration.
Grace
Posted by
pamcarter
on
Jun 19th, 2018
Hi Grace, I'll be manning my show for 9 weeks in Skye - that's a great island to visit! Check out my Exhibition page! I'll be posting my photos of my paintings soon. Pam
Leave a Reply